Even though we can't be together right now, we are still the church and we will persevere – because we are the body of Christ!
Let's support one another! Social distancing doesn't have to mean social isolation. Reach out and stay connected. Encourage one another via phone and online. Support local businesses. Love on your family. Guard your heart and mind.
"I am leaving you with a gift—peace of mind and heart. And the peace I give is a gift the world cannot give. So don't be troubled or afraid." -John 14:27
Parents, help your children grow spiritually at home.
Check out our weekly resources to help make it easy and fun!
Stream video of updates, services, devotions & more.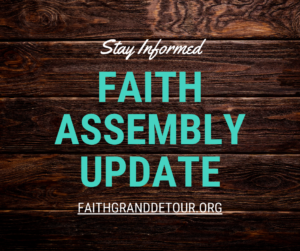 Covid-19 Coronavirus Statement
In light of the safety precautions taken by Gov. Pritzker regarding the Covid-19 Coronavirus, Faith Christian School will be closed – including all school related activities – Tuesday, March 17th through Monday, March 30, 2020.
Faith Assembly Church Services
Over the last few days, the CDC and our State government have raised the bar mandating the suspension of group meetings of 50 people or more. Since then, our board has met and prayerfully decided to work in concert with this mandate for the safety of our church family.
Beginning today, Thursday, March 19, 2020 we are suspending services and activities through March 30, 2020, mirroring the state mandate for school closures. If this timeline changes, we will let you know promptly.
In the meantime, please tune in here and our Facebook page where we will give you updates and expanded online ministry. Beginning this Sunday, we plan to video broadcast our service – including a time of worship and a sermon. We plan to have that video available here on the website at 11 am (barring any internet difficulties). In addition, we also plan to make expanded family ministry materials available to assist parents to disciple their children.
Please remember, our ministry is dependent on your faithful generosity. Please send your gift or tithe through our secure
giving page
or mail it to the church office.
We serve a Wonderful Savior. His Father has all things in control, and His Holy Spirit lives within us. We place our hope in Him. Psalm 27:1 "The Lord is my light and my salvation; whom shall I fear? The Lord is the strength of my life; of whom shall I be afraid?"
– Pastor Jon, Lead Pastor

7881 South Green Street
Dixon, Illinois 61021